Black Panther is one of the best solo Marvel movies. Fight me. Wakanda forever and if Okoye punched me I would thank her for it. So when one of my favourite SFF authors was wriitng about T'challa's genius sister on top of it, you bet I was on board. But, this wasn't great.
The world fell in love with her in Marvel's Black Panther. Now, T'Challa's techno-genius sister launches her own adventures — written by best-selling Afrofuturist author Nnedi Okorafor and drawn by Eisner Award-nominated artist Leonardo Romero! T'Challa has disappeared, and everyone is looking at the next in line for the throne. Wakanda expects Shuri to take on the mantle of Black Panther once more and lead their great nation — but she's happiest in a lab, surrounded by her own inventions. She'd rather be testing gauntlets than throwing them down! So it's time for Shuri to go rescue her brother yet again — with a little help from Storm, Rocket Raccoon and Groot, of course! But when her outer-space adventure puts the entire cultural history of her continent at risk from an energy-sapping alien threat, can Shuri and Iron Man save Africa?
Okay hear me out when I say it may have been my own expectations that led me to not enjoying this book so much. Shuri reads even better on the page as she did on the screen, the presence of other Marvel characters such as Storm was excellent and the art was perfect. I still somehow felt a little left down by this somehow.
This is my first time reading any Black Panther/Wakanda comics and I specifically wanted to start here since I have really enjoyed Okorafor's SFF novels and novellas so that definitely made me more inclined to start here. You can definitely start here if you have very little starter knowledge outside of who Shuri is or even a passing knowledge from the films. The world itself felt very real and that combined with the art, it really gives Wakanda an even greater sense of scale. However it did feel that all the world-building was very fleeting, like you would see the place and boom. Next panel.
Something I did enjoy most of all were the characters. Shuri is the leader of this story but we do get to see more characters I wish we had gotten to see a little more of, Storm and Okoye for one. A few other familiar characters that Shuri interacts with really well like Groot and Rocket of Guardians fame. I love Shuri a lot, the version of her is great as, if not better than, the version of her from the movie. I think she is very realistic and very strong in her resolve of no. She won't be the Black Panther again. I do think she could have done with more of an external conflict though outside of being made 'do the thing'. Her internal struggles with taking up the mantle again (she died in all fairness the first time) are all totally believable with real struggle. But other than she being the 'princess' and 'the genius', she faced very little outer challenge.
The biggest plus and the biggest minus here was the art vs the story. The art being some of the strongest elements here along with Shuri's characterization. This is very much a story pitched for the younger/teenage audience for Marvel and that is great since through out there are further references to other Black Panther series the reader can find. The vibrancy of the world, the clothes and just how much more technologically advanced Wakanda is are all made the brighter by the art. However as with all comics, no art can carry a weak story. The story never focuses for long on any one plot point and by the end, the story goes in the direction it was going in the first place.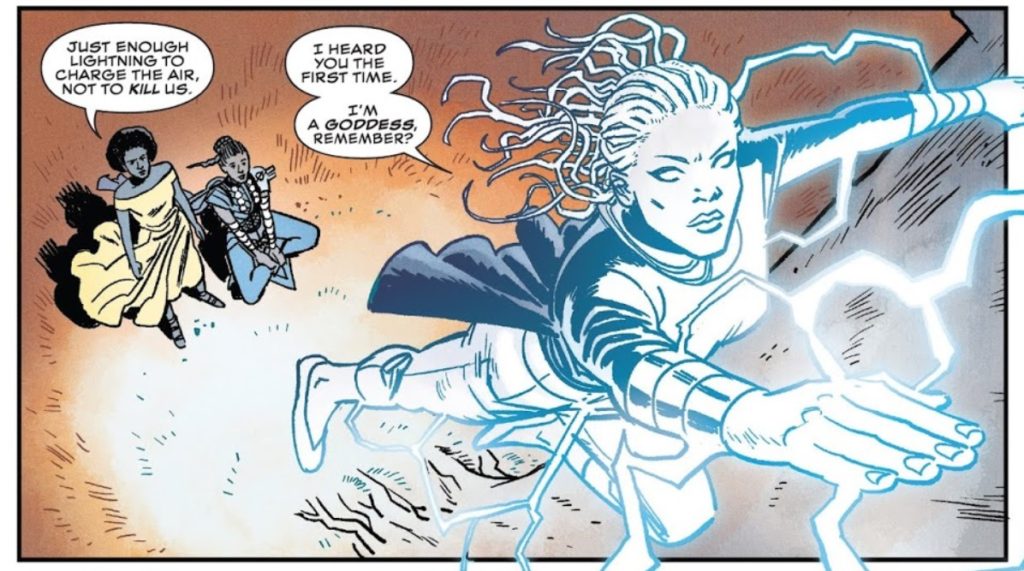 All in all this was a promising beginning to what could have been a very strong series but it fell down in a lot of places. I really struggled to review this but mostly since I feel very meh about the entire book. I am however definitely going to continue to read Nnedi Okorafor's work and more Black Panther comics so it's not all bad. Thanks for checking out this review! Happy reading all!
★★.5/5